As the bewitching night approaches, it's the perfect time to heat a mug of cider and curl up under a fuzzy cover with something truly horrifying–a book!
Here are some suggestions from BookYArd authors of reads that get them spooked–plus a few spooky books from the YArd itself!
GHOST STORY by Peter Straub
For four aging men in the terror-stricken town of Milburn, New York, an act inadvertently carried out in their youth has come back to haunt them. Now they are about to learn what happens to those who believe they can bury the past — and get away with murder.
— recommended by Rin Chupeco, author of THE GIRL FROM THE WELL
Here's why Rin loves Straub's GHOST STORY: "Creepy girls, grotesque deaths, and insanity are my preferred trifecta!"
And here's why you'll want to check out THE GIRL FROM THE WELL:
A dead girl walks the streets.
She hunts murderers. Child killers, much like the man who threw her body down a well three hundred years ago.
And when a strange boy bearing stranger tattoos moves into the neighborhood so, she discovers, does something else. And soon both will be drawn into the world of eerie doll rituals and dark Shinto exorcisms that will take them from American suburbia to the remote valleys and shrines of Aomori, Japan.
~
"BOOGEYMAN" — a shortstory in the NIGHTSHIFT collection by Stephen King
You can hear it here:
— recommended by Trisha Leaver, coauthor of CREED
What Trisha says about THE BOOGEYMAN: "The word terrifying doesn't do this story justice. The hint of insanity and fathers rather disturbing choice make this one of the few horror stories that continues to plague my mind twenty years after I read it!"
CREED by Trisha Leaver and Lindsay Currie
Three went in. Three came out. None even a shadow of who they once were.

When their car breaks down, Dee, her boyfriend Luke, and his brother Mike walk through a winter storm to take refuge in a nearby town called Purity Springs. When they arrive, the emergency sirens are blaring and the small farming town seems abandoned. With no other shelter, they spend the night in an empty house….
~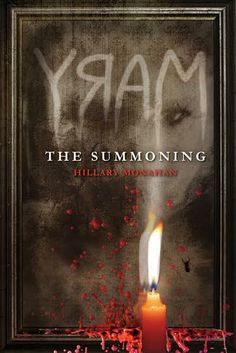 MARY – THE SUMMONING by Hillary Monahan
There is a right way and a wrong way to summon her.
Jess had done the research. Success requires precision: a dark room, a mirror, a candle, salt, and four teenage girls. Each of them–Jess, Shauna, Kitty, and Anna–must link hands, follow the rules . . . and never let go.
— recommended by Sarah Bromely, author of A MURDER OF MAGPIES
What Sarah says about MARY: "I've read Hillary Monahan's book several times. Still hate mirrors at night." –
A MURDER OF MAGPIES by Sarah Bromley
Winter in Black Orchard, Wisconsin, is long and dark, and sixteen-year-old Vayda Silver prays the snow will keep the truth and secrecy of the last two years buried. Hiding from the past with her father and twin brother, Vayda knows the rules: never return to the town of her mother's murder, and never work a Mind Game where someone might see.
~
IN COLD BLOOD by Truman Capote
On November 1
5, 1959, in the small town of Holcomb, Kansas, four members of the Clutter family were savagely murdered by blasts from a shotgun held a few inches from their faces. There was no apparent motive for the crime, and there were almost no clues.
— recommended by Mary Crockett, coauthor of DREAM BOY
Why Mary thinks you should read Capote's novel: "The real horror here is that In Cold Blood is a true story. The senselessness of murder, the randomness of it–the savage caprice–makes this book bone-chilling."
DREAM BOY by Mary Crockett & Madelyn Rosenberg
Perfect and REAL. The boy of her dreams. And when he brushes past her, he whispers her name.
Annabelle Manning spends her nights with a blue-eyed boy who consumes her dreams – then vanishes each morning as she wakes. He's everything she's every wanted, but even she never expected to find him in her chemistry class the next day.
Now she's got a gorgeous guy who's totally into her, whispering the most ridiculously romantic things in her ear. Her life is a dream come true – until her dreams stop and the nightmares begin.